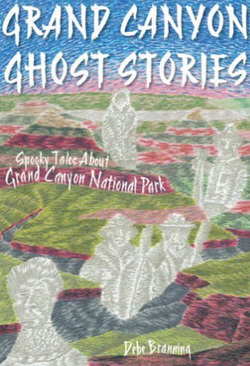 Debe Branning author of Grand Canyon Ghost Stories is an amazing author and good friend. Her book features so many exciting ghostly tales about the Grand Canyon area and is a must for any ghost fanatic on their way out west.
Her book features stories about the paranormal and UFOs. From ghostly dancers, haunted hotels, children apparitions, mummies, and more. This book is a fantastic read and you can't put it down!
You can order copy through Amazon.com or contact Debe through the Arizona Examiner website.

A little info about Debe:
Arizona Haunted Sites Examiner Debe Branning is the Director of the MVD Ghostchasers paranormal team which conducts regular investigations of haunted, historical locations throughout Arizona. Debe owns a 1972 Cadillac Hearse and is on the board of directors of the Pioneer's Cemetery Association in Phoenix, AZ.