History and Ghosts All in One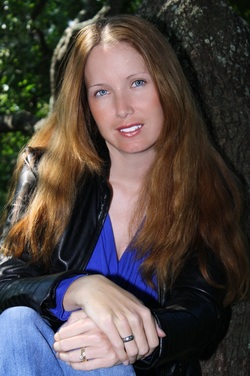 Parapsychologist Dr. Jamie Pearce PhD, is the founder of Historic Haunts Investigations. She has been professionally involved in the paranormal for over 25 years, is a Paranormal Investigator, and has a PhD in Parapsychology, and is a member of the Rhine Research Center, MUFON, and the Society for Psychical Research. She is also a member of The Ghost Club which is the oldest paranormal organization in the world. Pearce is also ordained and is a certified Reiki Master. She is a genealogist and her research ability comes in handy on investigations. Pearce studied business, history, and writing at the University of Virginia. She is also a photographer, conservationist, and scuba diver.
Dr. Pearce has launched a brand new podcast in February 2020. If you're interested in topics broadly considered to be paranormal and supernatural, Speaking of the Paranormal is the Podcast and YouTube channel show for you. While the show includes discussions on paranormal investigations, haunted locations, and ghost and apparitions, it goes beyond just spooks and specters to touch upon topics that raise eyebrows and invite debate. It delves into issues like UFO's, ESP, psychics, mediums and New Age concepts, Cryptids like the Loch Ness Monster and Moth Man, superstitions, urban myths and legends and the obvious and not so obvious connections to popular culture and current thought. Along the way it will engage in interviews with witnesses, practitioners, artisans, theorists, authors and respected experts in their field. Also, it will look into the investigations conducted by Pearce and her Historic Haunts Investigations team that led to her continuing her Historic Haunts book series. Make sure you check it out at
www.SpeakingoftheParanormal.com
She is also an empath, post cognitive, a sensitive, and has some psychic ability.
Dr. Pearce has worked with many of the top names in the paranormal field and has also been featured on My Ghost Story and Most Terrifying Places in America among other shows.
She is a former feature columnist in The Florida Times Union Shorelines edition with my column entitled, Ghostly Shores. It featured stories across Florida's northeast Atlantic coast that are haunted.
Pearce is also an author of the Paranormal. Historic Haunts Florida, which came out in 2011 and her 2nd book, Historic Haunts of the South was released in 2013, Historic Haunts Florida 2, Historic Haunts of the South 2 in 2014, and Historic Haunts of the South 3 in 2015. Historic Haunts of the North and Historic Haunts of the Midwest will be out in 2021.
She is a former member of the FWA Florida Writers Association.
Pearce started Historic Haunts Investigations in January 2004 to try to help people who were experiencing the paranormal and to answer questions they might have on what is still a touchy subject.
Located in Jacksonville Florida, but the team has traveled across the country on their investigations helping people with their paranormal needs.
Jamie Pearce has always been interested in the supernatural and had her first experience at a very early age. The reason she started Historic Haunts is to share their investigations with people, help answer paranormal questions, and to be there for people who need their home or business investigated. Plus, to hopefully help the non-believer become more open minded and realize, ghosts do exist.
Historic Haunts Investigations answers any questions you may have and do investigations FREE of charge. When the team goes in to a location, we believe a place may or may not be haunted and if we find real proof that it is, we will present it to the client. If we think a place is not haunted, then we will explain why we believe that and what is causing the alleged paranormal activity. We also help people whose homes are haunted. We suggest ways that will help eliminate the activity or hopefully even do away with it.
Historic Haunts Investigations has conducted investigations in 26 states and and in 3 countries.
We never use Ouija boards to try to conjure up the spirits. We also do not practice in seances. Honestly, we don't believe you need to use these to contact the spirits. If they want to be contacted, they will contact you first.
Pearce and her team are based out of Jacksonville Florida but she has traveled across the country for; investigations, conventions, lectures, book signings, and more.
Feel free to email us your questions at historichaunts@yahoo.com
---
Proud Member of.....

---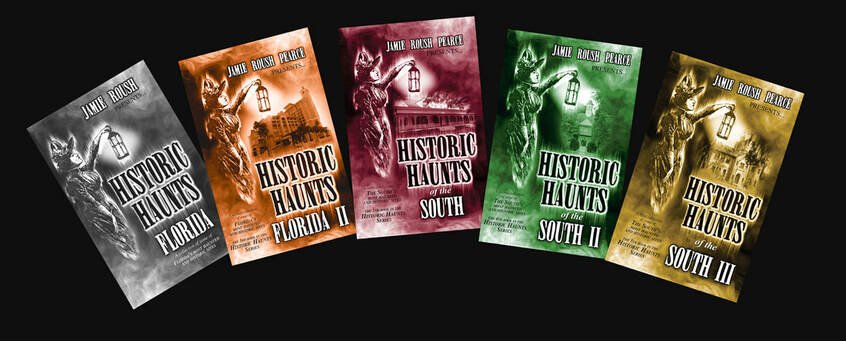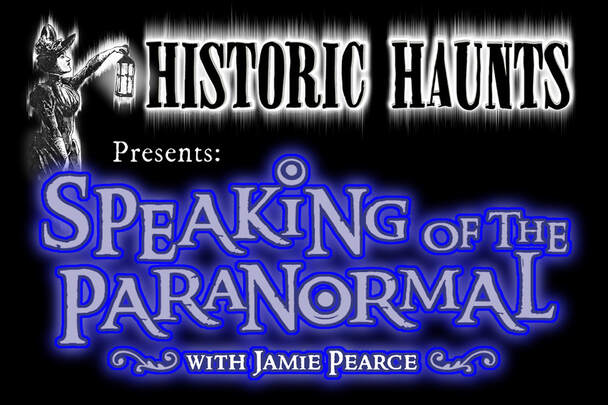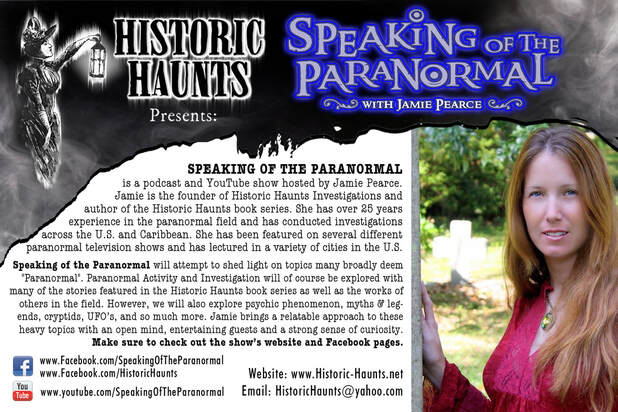 ---
---
Book Dr. Jamie Pearce For A Special Event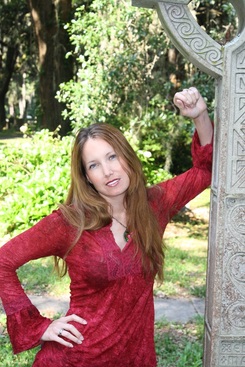 Dr. Jamie Pearce who has over 25 years of experience in the paranormal field now conducts private paranormal tours for school groups, birthday parties, and other special events. Pearce is a licensed tour guide in the city of St. Augustine Florida. She also does public speaking on the topic and shares some of her encounters from Historic Haunts Investigations.
Jamie shares her knowledge of the paranormal field along with local ghost stories in the area. You also may see some of the equipment used in the field and photos from past investigations.
You will also learn about the different types of spirits and how to deal with them.
Dr. Pearce's books are also available for purchase.
If you have any questions, please email her at historichaunts@yahoo.com and she will get back with you about times, dates, and prices.

---
About Paranormal Investigating

Just because a building is old, doesn't mean that it is haunted.
Paranormal Investigating is not always as exciting as television makes it out to be. Sometimes you can spend hours doing research and sitting in buildings and not see or feel a thing. Then there are times there is so much activity it is unbelievable! You just never know what will happen on an investigation. That is one thing Pearce loves about the paranormal field, it is so unpredictable! The truth is out there and half the fun of it is discovering it for yourself.
Forms of Manifestation

There are four basic ways in which a spirit can manifest itself. The one that most people think of is actually the least common and it is seeing an apparition. For the investigator, catching something like this on film is the holy grail of evidence and unfortunately is very rare. In this form of manifestation, the ghost or spirit appears in a physical form. They may look like a normal, living person, a semitransparent figure, or somewhere in between these forms. People have also seen apparitions of animals as well.

The second form of manifestation is by sound. These may be disembodied voices, footsteps, the sounds of doors opening and closing, or music. Often times when speech is heard, it will sound muffled and like a whisper. A lot of people have reported hearing their name come from an empty room or a conversation when they go to see who is there, they find no one. These are just a few examples of what people have reported.

In the next form, scents or smells are detected. Often times people report smelling perfume or flowers. Pipe, cigarette and cigar smoke are also very common occurrences. These scents usually do not last long. Typically, someone will catch a brief smell of something and then when they recognize what the smell is it will be gone.

The fourth and final form is tactile. Like all others this can take several different forms as well. A common example is the feeling of cold spots. These spots are believed to be caused by a spirit absorbing the energy in a room to assist it in manifesting itself. Heat is another form of energy, and when used by a spirit, can drop the temperature more than 10 degrees. Sometimes an entire room can be affected by this occurrence. Tactile manifestations can also take the form of being touched, such as a hand on the shoulder a poke in the stomach, or even having their hair brushed aside. Also, people have reported their hair being pulled or clothing being tugged. These are generally very slight but can occasionally be forceful.

These are the four main ways a ghost can manifest itself and can happen individually or together. The combinations all vary just like the hauntings they are associated with.

---

Copyright Dr. Jamie Pearce PhD and Historic Haunts Investigations. All rights reserved. Reproduction of this website is prohibited without written permission.