Historic Haunts Are Hauntingly Good

We have done investigations in several states across the country. Also, while heading on vacation we check out supposed haunted locations. History and ghosts are two of my favorites past times so why now combined them together and research a few Historic Haunts.
Supernatural, Paranormal, and Spiritual Experiences

Personal experiences of the paranormal, supernatural, and spiritual happen to everyone sometime in their lives. Here are a few that have been submitted to me. I want to thank everyone who has shared their experiences with me. Thank you :o)
Brown Mountain Lights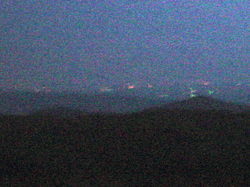 Brown Mountain Lights
The Brown Mountain lights appear along the ridge of the mountain, moving erratically. They are best seen from a distance; they disappear as you climb the mountain. No one knows what they are, but the sightings have gone on for so long that the Cherokees who inhabited the area have stories about them.
At two different places on the blue ridge parkway you can see the brown mountain lights. There are two stories to this one. 1) Its said that there was a war between two different Native American tribes. At night when it was safe the women would go out and look for there husbands with big bright torches but they were killed to so now they keep looking forever. 2) It was winter and a little girl had gone missing her father looked and looked for her she died and he died and to this day he continues the search. Brown mountain has no homes or roads built on it you cant even go on the mountain so that makes it a truly haunted place scientist have tried figure out what's going on for hundreds of years and many people have seen these lights year after year.
---
Personal Experience With the Ghost of George Washington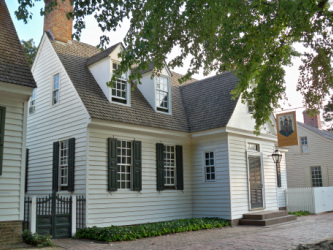 This is a story about the house I lived in.
It was a reconstruction in 1940, but it sits on the original 18th century foundation and it used to be an "ordinary" (Similar to a coffee house). It was called "Burdett's Ordinary" in the 18th century. Some of our founding fathers visited this establishment, including: Patrick Henry, Thomas Jefferson, and George Washington.

At 3am on Halloween night 2005, I was awoken by something. I had the feeling someone was watching me from the foot of the bed. I looked and saw a man who stood over 6 feet tall and was dressed in a dark brown colored colonial suit, with graying hair. I looked closer and soon realized this man strongly resembled George Washington! The next morning I got up and spoke with two friends and told them what I had seen.

I then began to research this interesting phenomenon and found out some very interesting facts. Indeed, Mr. Washington had visited the ordinary on numerous occassions while in Williamsburg. I also found a portrait of him in his inauguration suit and it looked exactly like the one I saw the apparition wearing.

We also often felt a presence in the house and heard footsteps. Everyone who visited me while I lived there said they felt a presence. Often times when I would be setting downstairs in the study it would sound like someone was moving furniture upstairs. Or if I was upstairs it would sound as if it were downstairs.

Could what I have seen really have been the ghost of George Washington? Who knows?!?!
---
Mike's Story at Colonial Williamsburg, VA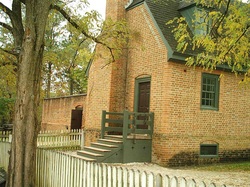 Public Gaol, Colonial Williamsburg, VA
My name is Michael Pfeifer, and I work as a Historic Site Interpreter at Colonial Williamsburg. This story is about a true event that happened to me at one of the sites that I work at- The Public Gaol. The Gaol (pronounced jail) has two of the original cells (completed in 1704), but the rest is reconstructed. Mr. Peter Pelham was the Keeper of the Public Gaol during the 1770s. There have been stories about noises, footsteps, and sightings before, so we jokingly say that Mr. Pelham is still keeping an eye on the Gaol.

One day in early spring 2006 another interpreter and I were scheduled to work at the Gaol. Since there were only 2 of us, we would take turns interpreting the site. One of us would interpret for an hour while the other took a break, and then we would switch. I was interpreting first, so my co-worker went to get a cup of coffee at the break room in the Capital. It was still early, and no guests had arrived yet. That means that I was entirely alone. Or was I?!?

While opening the Gaol site, I noticed that there was something wrong with the modern central air system. It was extremely stuffy inside the Gaoler's house. There was no air movement, and it was way too hot inside. First, I called Work Control to make them aware of the situation. Then I decided that I would open the back door leading to the exercise yard and original cells outside and then come back and open the front door of the house. Perhaps that would let some air flow through and move some of that dead air. I walked through the Gaoler's house and opened the back door as planned. I then started back to the front of the house. While I was walking through the hall (parlor) I heard what sounded like a coin hit the floor behind me. I stopped and turned around. Sure enough, there was a Lincoln head penny laying on the floor behind me. Again I turned around to find another Lincoln head penny laying on the floor. Still unaware of anything odd, I bent over to pick it up. Again I heard a coin hit the ground behind me. I bent down to pick it up. Again another penny hit the ground behind me. The pennies continued to drop in just this fashion for what seemed like several minutes.

I did begin to think something funny was going on. First I thought I had a hole in my pocket, so I checked. No holes in either pocket. Besides that, I NEVER carry change in my pockets. The pennies weren't mine. Then I began to suspect a co-worker was playing tricks on my. I searched the whole house and found no-one. Since there are only two doors and I could see them both from where I stood, I am sure that no one had entered. Finally I said, "Well Mr. Pelham, I'm glad you took a liking to me, but if you're gonna drop money on me could you make it a Virginia Half-penny, or a shilling or two? Even a 20 would be nice."

Then the pennies stopped dropping. I picked up the last one and put it in my pocket with the rest. I could hear my colleague coming down the path from the Capital, so I opened the front door and went out on the front steps to wait for him. When he got there, he noticed I had a confused look on my face and he said, "What?!?"

I said, "Clayton, the strangest thing just happened to me!" and I began to tell him the story. While I was talking the front door slammed shut and something came flying out from inside and it his me in the chest. He said, "What was that?" I said, "It was probably a penny." I looked at the ground and it WAS a penny. I picked it up and put it in my pocket.

I went home with 35 pennies in my pocket that day. They were all modern pennies with assorted dates. There were no wheat pennies. I did not notice if they fell heads up or tails up.

I shared the story with all my co-workers, and they were all amazed. Some couldn't believe it, and some just plain got freaked out. They all swore that they hadn't done it. They said that if it had been then that they would claim it. They said that it would be too good of a prank to go unclaimed.

So where did the pennies come from? Did Peter Pelham or another spirit decide to make themselves known to me that day? I don't know. I have worked at the same site many times since then, and nothing else has happened to me.
---
One of My Worst Experiences

My mom and I decided to go antiquing and hit all the junk shops one day. We stopped at one we had never been to before. It was a very old building full of the smell of musty and dusty old antiques and all around junk. We started roaming through the building, it almost appeared to have been an old warehouse at one point and time. The building had a strange feel to it but we just chalked it up to being old and musty smelling. My mom decided to go off in one direction and I headed for the upstairs.

As I made my way up the steps and through the first room of the upper level I noticed all the vintage clothing, which I love! I headed in to the back room of the upstairs and immediately started looking at a clothes rack. I was only there for about 30 seconds or so when I started smelling this horrible stench, it smelt like blood. I started feeling very nauseous and as if something was behind me. I turned around and to my surprise there was a woman lying on the floor in a pool of blood around her head. She was obviously dead but her eyes were wide open and she was focused right on me. I could see her in complete detail. She was not transparent, she appeared to be in her 60s and looked as if she had been mugged. She had been bashed on the head and her handbag was old and was avocado green with a broken hand strap. She looked like she might have been mugged. She was wearing a cream colored sweater torn and tattered with a stripped dress.

I got so sick and immediately ran downstairs. As I started down the steps I got the tunnel effect feel and felt so sick. I went and found my mom. She took one look a me and said "What did you see? Your color is completely gone and you look like you re going to be sick!" I just told her to go upstairs and see if she saw or felt anything.

She wanted me to go upstairs with her and I didn't want to. Finally I decided to face my fears and go back up there. Mom started through to the back room and I stopped at the door. I told her I wasn't going in there. She headed toward the back of the room and then over to the area where I saw the woman. There wasn't anyone else up there at either time and she shouted over to me that she didn't see or hear anything but her chest really hurt and felt very tight. She came back over to the doorway where I was standing and asked me what I saw. I pointed to the area and explained the entire event. She went back over there and was standing right next to where I saw the woman and asked if she was still laying over there. I stepped around the rack that was blocking my view and saw the woman still lying there. I felt like I was going to pass out and started crying. Mom came over trying to comfort me and all I wanted was out of there.

We left the building and when I got home I immediately started doing research trying to find the history of the building and turned up zilch. I even contacted the news paper and still ended up with a goose egg. As soon as I get a chance I am going to head down to the court house and see if I can find the rest of the pieces to the puzzle.

One reason I believe my mom didn't see anything is because she is precognitive and I am post cognitive. That could have a lot to do with it. One thing about being post cognitive is, it isn't a very pleasant thing sometimes. You never know what you might see!
A Final Goodbye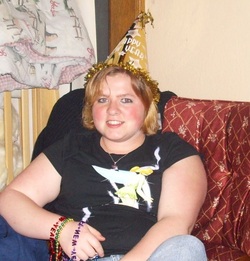 Julia Rebeka Saunders
A very dear friend of mine passed away in May of 2008. She was a wonderful and loyal friend to many and was only 24 years of age.

We used to have long talks at work about everything. One day we got on the subject of ghosts. She said she thought she beieved in them but wasn't really sure since she had never seen one. I jokingly told her if she died before me to make sure she came back to haunt me, then she would have proof that ghosts really do exsist. We laughed it off and went about our work. Another time we were talking about her trip to Walt Disney World and her love for Tinker Bell. I told her when she died she was going to turn into a pixie. She laughed and said "I probably will!"

The day she died all of us were heart broken. It was so unexpected and didn't really know what to say or how to handle it, except to be there for each other. That night I was laying in bed saying my prayers and asking God to please watch over her family and help them get through this trying time. Then I said, "Julia, I will miss you so much!" As I said that a pink ball of light slowly appeared on my ceiling and I instantly knew it was her. I took at it and said, "Hey Julia, I told you you would turn into a pixie." The light got very bright and moved off to the right and appeared to go out the window. I knew that it was Julia's way of saying goodbye.

Since her death, SO MANY have reported hearing her voice and her whistle. SO MANY have felt her presence and even a mysterious text message from her cell phone several days after her phone was shut off.
This is my personal experience of Julia's ghost and also my way of saying ghosts DO exsist!!!
In loving memory of Julia Saunders.
---
Liam's Story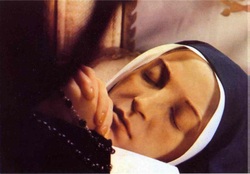 Sister Burnadette
One summers evening , several years ago, while sitting on the veranda of my home overlooking the beach at Malahide, County Dublin and out across the Irish Sea…I got into a discussion with a Catholic priest, a Father Joe Mangan, about the existence or non-existence of a God.
Joe Mangan was a tough New Yorker, a straight speaker who was intent on proving to me the existence of his God while I refuted and rejected all his theological, religious and spiritual arguments.

After a short time it became obvious that Joe was getting more and more frustrated by my stubbornness and refusal to accept that which was so plainly obvious to him….that a God did clearly exist.
Eventually he said to me "I give up…is there nothing or no one that could convince you of the existence of God"…..He continued…"What if the sky was to open at this moment and the face of God appeared above you…then Liam would you accept the truth"?

I immediately replied "No…I would not accept that it proved beyond doubt the existence of a God" "Oh for heavens sake why not"? he asked. "Because" I said, " if a face appeared in the sky above me, I would attempt to explain that appearance in a rational manner…Such as…was this an hallucination…or an optical illusion….or perhaps " I said, raising my wine glass, "intoxication"?. "All of these possible explanations would seem more logical to me than the explanation of a God"
Joe got more than slightly angry and said "OK so there is absolutely nothing that could ever convince you to change your mind" ? "Well" I replied, " there is one thing…….. when I was a child, I recall either reading or hearing somewhere that the body of Bernadette Suburois..Saint Bernadette of Lourdes is in corrupt, even though she has been dead for some 100 years…..is this true"? Joe replied that although he had not witnessed this phenomenon for himself…Yes he believed from good authority that this was indeed the case. I told him that this was something to me that could NOT be rationally explained…it was indeed something "supernatural" and certainly if true, would make me revise my thinking on the subject of a Creator.

The conversation ended and we both went our separate ways. At that time I was broadcasting each week on a Radio program called "The Travel Show". Apart from compering the program I also did most of the interviews both studio and recorded and also worked as Travel Editor of a British Business Magazine. So it was not unusual for me to receive invitations from Tourist Bodies both in Ireland and abroad and/or Airlines, to go on press trips otherwise known as junkets.

A few days after the conversation with Joe Mangan, I was sitting in my office, when a call was put through to me from Liz Drucker of Air France in London. I had met Liz on a couple of occasions as she worked in the Air France Press/Public Relations Office. Liz told me that she was organizing a press trip for that weekend. Air France was launching a new product called Air France Rail, whereby Irish travelers be they tourists or business people who were traveling to France would no longer need to book Air Tickets and then separately negotiate Rail Tickets, bus tickets and so forth for an onward journey from Paris. In future they would simply book with Air France right through to their final destination, be it Bordeaux, or Marseilles, or Nice or wherever and the Air Ticket would cheaply include the cost of the entire trip and would be honored by SNCF (French Railways).
They would take a group of Irish journalists to Paris to launch Air France Rail and would spend 2 days there to include a Rail trip out of Paris to a French provincial destination, just to get the feel as to how Air France Rail would work.

Having no plans for that weekend I readily agreed to go, and arrived at Dublin Airport on the following Friday evening to meet up with the other journalists. We were given a "Press Pack" with full details of our trip and Air France Rail, climbed aboard an Air France Boeing 727 and a little over an hour later touched down at Charles De Gaulle Airport. An Air France Coach met us and we were driven into the City to the Hotel Sofitel, and each was shown to his or her hotel room. Liz told me that when I had settled in, I should go up to the 23rd floor where there was a night club and we could relax and have a few drinks. On the 23rd floor I sat beside Peter Mills of SNCF (French Railways) who I knew from previous trips and in fact had interviewed Peter on my radio program a few weeks before. I asked Peter what the plan was for the following day and he told me that we would be leaving at 7am for the Gar De Lyon Railway Station, where we would board a train for a two hour trip south of Paris to a town called Nevers. I had not heard of the place before then and asked him what was special about it. He told me that there was nothing particularly special…the purpose was just to take the train and sample how the Air France Rail product worked in reality. He did mention that Nevers was quite famous for its porcelain factory and there was a magnificent Chateau nearby once owned by the Duke Du something or other.

Well the following morning we headed off on the train. We occupied our own special conference coach, with large table and arm chairs and waiters brought us a regular supply of cheeses and wines….Air France and SNCF took the opportunity of a captive audience to show us Videos on a large screen of the new A320 Airbus Aircraft recently entering service and some new super fast trains that SNCF had in operation.

Some 90 minutes after leaving Paris we pulled into the station at Nevers . We were met on the platform by a local tourist guide and some local journalists who had an interest in recording the visit of these Irish hackers to their sleepy little town. Soon we set off on foot on a tour around the town , led by a Tourist Guide who explained all about the architecture and the local vineyards and other places of interest. Each member of the Irish group been given a Press Pack containing photographs and details of Nevers……. I glanced through it and found little of interest. However it was a bright warm sunny day and we had a pleasant stroll around,stopping off briefly at a Café en-route for a light lunch.

Soon after leaving the Café, the main group of journalists led by the Tourist Guide, had gotten well ahead of me and another female journalist. We straggled some 50 yards behind them as I took photographs of this that and sometimes the other…mostly buildings. As we walked down a small street, the main group ahead of us turned into the right. We decided then that we had best hurry and catch up or we may lose them altogether. We reached the gateway where the others had entered, and walked into a deserted courtyard. On the right further up the courtyard was a religious statue in a Grotto and to the left, what looked like a church. My straggler companion said "I know where this is…………….. it's the Convent of Saint Gildard where St. Bernadette was a Nun after she left Lourdes" I remember replying "Gosh that's amazing, I was only talking about Bernadette a few days ago" Nothing else came into my mind…I didn't have time to consider anything else as neither of us had noticed a Nun running towards us from the church…..didn't notice her that was until she was almost upon us and tugging at my arm. In broken English she said "Come…come quickly she is waiting……come". My journalist friend took fright and headed for the church leaving me struggling with my heavy camera bag and the aggressive Nun. She looked at the camera hanging from a strap around my neck and said "No…no photographs ..please no photographs". But as I knelled down to remove the camera and put it in the bag, she again pulled at the cuff of my jacket and repeated "Come".

I was practically manhandled across the courtyard to a doorway at the side of the church. I stood at the doorway and looked inside. To my left I saw the main portion where a Mass was in progress, with quite a large number of people kneeling. As my gaze went slowly around from left to right I saw that I had entered at a side altar with maybe 8 or 10 rows of sparsely occupied benches in front of me . At the top was a small altar in front of which stood a glass coffin containing the body of a young woman clothed in a Nun's habit I knew immediately that I was looking at the in corrupt body of Bernadette Suburois……..Saint Bernadette of Lourdes.

My first thoughts were scrambled…..bit like being hit by a bolt of lightning..(not that I have ever been hit by a bolt of lightning to make the comparison). I mean what are the odds of my ending up in a town in the middle of France that I never heard of and didn't know existed, a few short days after my discussion with Father Joe Mangan. But more than that I was amazed by the "shock" value. Why….. in Dublin Airport or on board the plane, or in the hotel, or on the train, or during the tour around Nevers that day…. why had I not been told about or heard or read in any of the Information packs, that this was where the in corrupt body of Bernadette was kept ? Until the very moment that I had looked from the doorway and seen the body in the glass coffin I had absolutely no prior notice or hint of what I was about to see. It seemed as if that fact had been deliberately kept from me in order to maximize the impact.!!! I walked slowly and I admit unsteadily up to the altar and gazed down at the face of Bernadette. The body is perfect. It is indeed as if she was sleeping. My investigations since that day have told me that Bernadette had died in 1879… 116 years before. Unlike the body of, for example Lenin in Moscow, it was not artificially preserved, and apart from a small coat of wax on the face to prevent discoloring..(which had only happened because the Nuns who first exhumed the body in 1909 had inadvertently washed it and caused portions of skin to turn black), the body had not been embalmed or mummified. I spent some 10 minutes beside the coffin, lit a small candle and then turned towards a door to the right of the altar, and back out into the courtyard and the sunshine. My Journalist group was scattered around at the far end of the courtyard back near the entrance gate. I was completely on my own, with nothing to visibly show that I was a journalist, Irish or had any connection with the group now gathered at the entrance gate…….. when… another Nun approached me…. a different Nun to the one who had "greeted" me on my arrival. She stared into my eyes and began speaking to me in French. I smiled sheepishly and shook my head (as you would do when someone speaks to you in a foreign language) . I said "I'm sorry…No French..I do not speak French…English ?…. do you speak English "? She shook her head and looked around the courtyard…catching the eye of Liz Drucker, who was in conversation with others near to the gateway.

There was no motion to Liz to come over to us…just the eye contact but nevertheless Liz walked towards us.…..The Nun then turned back to me and said in a very soft yet pronounced voice "I am not obliged to make you believe, I am only obliged to tell you what I have seen and heard. You have come a long way to be with Bernadette today and she is happy to see you. We think perhaps today may change your life. We wish you God Bless and God speed and a safe journey back to Ireland" She then turned and walked away.

As my mysterious Nun disappeared through the doorway and into the church Liz said "We had better hurry Liam or we will miss the train back to Paris" Well I had just been struck by another bolt of lightning…..Trying to be very calm and mature and NOT in the least bit melodramatic …I just said to Liz…" I THINK I just had a religious experience"?.. She laughed and said "Really"? As we walked to the entrance Liz asked me. "Liam where did you learn to speak French"? Somewhat confused by the question I replied honestly "I don't speak French" She said "Then how did you understand what the Nun just said to you" I said "Because she spoke to me in English" Liz said "No, that Nun did not speak English…she spoke in French"!!!!
By then we had reached the other journalists and Liz began organizing and counting heads before leading her gaggle of chattering troopers back to the Nevers Railway Station. I have not discussed this incident with Liz since that day. Nor did I ever explain to her the FULL story of what I had experienced that day……I think she just brushed off the multi lingual Nun incident and forgot about it..she had so much more on her mind at the time. Me…. I just kept quiet and tried to figure it all out.. I am still trying to figure it out !!!! I later discovered that the words spoken to me in French (or English) by the second Nun, were in fact a quotation from Bernadette. When she was a small child in Lourdes and told the Village elders about her apparitions, they scoffed and chastised her for telling lies. At which point, the child Bernadette told then "I am not obliged to make you believe, I am only obliged to tell you what I have seen and heard "
---
Jeff's Gettysburg Story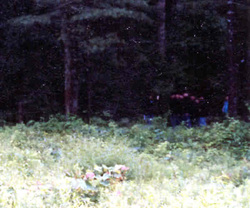 Gettysburg, PA
Here's what happened to me on a couple of trips to Gettysburg, back around 1985, when I was just graduating from art school, my dad and I went to Gettysburg (me for the 1st time) over the July 4th weekend, and were given a tour by author & historian Mark Nesbitt (later author of the ghosts of Gettysburg books)

Anyway, Mark took dad and I out to many of the battlefield places, and told us some stories about the battle, generals, civilians and even a couple of weird stories that happened to him and some of his friends during their park service tenure. When we went to the "Triangular Field" where the men of the Arkansas, Texas & Georgian brigades fought against the "Orange Blossoms" of New York state. We began walking across the field from the stone wall and shooting photos all the way. Mark had told us earlier about the Mathew Brady assistant who had drug around the body of the dead confederate and also the encounters people have had in the Devil's Den area with a shaggy haired, confederate over the years since, always involving film and/or cameras in some way.

Anyway, so all three of us are walking along, Mark's telling us about the desperate fight for this triangular piece of ground, and we're all about 30 feet or so apart, taking photos. We're also joking about how maybe this place is, and I quote "where the spook, got it!" No sooner had we all joked about this, than my camera jammed up, a fairly new Pentax camera that I had just had fixed before we left. Well I'm trying to fix the film that's quite obviously bound up inside and it won't budge! Well I start to tell dad and Mark that my camera is bound, and happen to look up at the same time only to see both dad AND Mark standing there working on their cameras also... Their cameras had bound up too....at exactly the same time! Coincidence?, maybe. I tell you tho, I hadn't had a problem before we got to that place on the battlefield, and neither had Mark of dad had any problems with their cameras. The really strange thing is, my camera wouldn't start working again until we were well away from the den and the triangular field area.....as if nothing was wrong with it. I had popped the back open, expecting to find the film bound around the spool.....Nope!, it was fine, so i closed the back and continued trying to advance the film, and it wouldn't work until we were clear of that area on the battlefield.

You can find this story in Mark's 1st book Ghosts of Gettysburg, although he didn't use dad's or my name, which I thought was a shame, but oh well. If you doubt me, feel free to email Mark at Ghosts of Gettysburg and ask him, he'll tell you also.

Here's my second Gettysburg story.....

It may seem hard to believe, and let me stat that NONE of this is made up or has been "added to" for dramatic effect. I've even tried numerous times to come up with a concrete explanation, but can't seem to find one.

So.....

Back in 1993 Me, my dad and a few of my civil war reenacting buds from out here in Oregon, decided to go back to Gettysburg to participate in the 130th anniversary of the battle of the same dates in July I think they were off by a couple of days from the actual battle like the 5, 6, & 7th or something like that, anyway REALLY close to when it happened (1, 2nd & 3rd)

So we're doing the battle, dressed as members of the ANV, Garnett's Brig. we tool around town, take in the sights, bookstores, battlefield, etc.

So one day after the day's activities have ended (my dad was in town for a civil war art show) We all pile in a van and head out on a tour of the East Cavalry battlefield, where a local gallery owner is giving us a tour of the filed. Well it's about 7:15 or 7:30, pleasant outside about mid 70's, the sun's out, shadows are starting to get long, as evening is approaching. Well we've been there for a while, and we all decide it's time to head back to town to grab some dinner. well me, my dad and another buddy are standing around the Michigan or Ohio monument.....can't ever remember which.....it's a tall obelisk, with Custer's plaque on it.

We're talking battle stuff and waiting for the others to get back to the van. well I'm standing there, looking towards, i think the direction of Cashtown MD, anyway, I'm looking across a field opposite the obelisk monument, where a small treeline borders the field, and behind that I guess was another farm. So I'm looking out across this field, and I all of a sudden see this young guy standing out there.

He's dressed in a white shirt, jersey blue trousers, and a kepi, pulled low over his eyes.....and he's just standing there looking at me and not saying a damn thing. Well I start waving my arm and hollering at him to come on (thinking this is my buddy's 16 year old son, who was with us) I keep waving and calling his name, and this guy just keeps standing there and not moving, but just keeps looking at me.....and I keep waving and hollering for him to come on, with more urgency! All of a sudden my friend Rick walks up and asks who I'm talking to.

Well I turn around and look at him and Say "Lucas" (my friend's son), and he's just standing out there, and won't come on in! My friend gets this really funny look on his face, and says there ain't anybody out there, not only that my friend's son was with the rest of our friends just down drive. Well I whirl around.....and this whole exchange couldn't of lasted more than four seconds, and this guy has absolutely VANISHED! No trace.....nothing.

Now the field is pretty bare, filled with a little queen anne's lace, but not enough to fully cover the ground OR hide from anyone, and the field is really dry.....enough where if you ran you would leave some dust in the air.....nope, gone! Can't lay down and hide, not enough ground cover out there, and he was too far from the treeline to have run that quickly and made it.

Well I'm thinking what the heck!??!......OK, the rational part of my mind is starting to go into overdrive......It has to be another reenactor out there who saw us and is totally jerkin our chain, so I start going over the possibilities again....nope, it just doesn't pencil out. So as I'm trying to do this "math' in my head, my buddy is walking beside and says "you KNOW what you saw...right?" I was still having a hard time believing it, and dealing with it. Pretty amazing.

Still, every once in a while I will try and rationalize this out, but it STILL doesn't pencil out.

OH!.....I always forget this part, mostly because I was there and know what I was wearing... Well like I said, we'd all been out doing the reenactment during the day, and most of us still had our uniforms or parts of them on. So I'm standing there next to this Union Cavalry monument, wearing grey trousers, a homemade shirt, and cavalry boots.

No wonder this guy was looking at me......probably thought he was being invaded....again!
---
Jekyll Island Ghost Ship

An occurrence that happens often happened to us while on a family vacation. We spent an afternoon on Jekyll Island off the coast of Georgia. As we were driving over it started to pour something awful. We pulled in to an old house, well over 100 years old, that is now a book and antique shop. As we went up to the porch the rain started coming down harder and the thunder and lightning got even worse. As we started roaming from room to room looking at all the cool stuff we learned about the has at one time was a sanatorium.

As we left the antique/book shop we decided to eat at a local restaurant called Blackbeard's which was right on the water. As we were having dinner, another storm rumbled through. Finally the skies started to clear and we decided to walk the beach. My mom and I were looking out at the water and saw what appeared to be an old pirate style ship way off the coast. We could clearly see 3 large masts and it was moving at a slow pace. We turned to tell my father and when we turned back around to look at the ship, it had totally vanished!! There was no way it could have just sailed out of sight. We even got in the car and drove around the island, with no ships to be seen anywhere.

We headed back to the car and decided to play tourist and head for some of the shops. As we looked through one of the shops we heard him talking about what the storms always bring to the island. I went over to him and asked if he had ever heard anyone report a ghost ship? He asked me what we had seen and I recounted the entire story and as I finished it up he took me over to some matted photos they had for sale and said, "Did it look like this?" I said, "Holy crap, that is it!" He started telling us that after every storm many people report seeing a ghost ship off the coast in the area we saw it in. He said apparently in he mid 1800s a three masted ship lost it's way during a horrible storm and wrecked.

I wondered if this really was it's ghost ship??