Haunted Items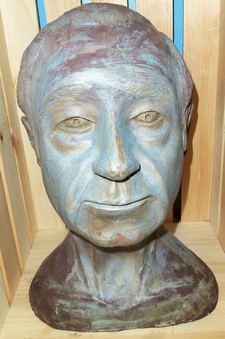 Alleged haunted bust removed from a recent client's home.
As John Zaffis says on his show The Haunted Collector, "Spirits can attach themselves to objects." That statement is very true. Spirits can attach themselves to whatever they want, not just a location but an object. There are stories of great grandma still rocks in her favorite rocking chair, or Uncle Joe still lingers where his old pocket watch goes. It happens more often than you think. Animal spirits can even attach to items.
If you are an antique collector this can be a problem to you if you don't want to potentially bring an item home with someone attach to it.
I almost always cleanse antiques before I bring them into our home, but I do have a few personal items that have something lingering close by them.
If you are an avid collector and don't want to take a chance of bringing a spirit into your home, cleanse it first. You can smudge it with sage which is very simple. Just get a pack of sage and let it smolder around the object and say something like, whoever may be attached to this item is not aloud into my home. Or you may say the Lord's prayer or another prayer depending upon your religion.

---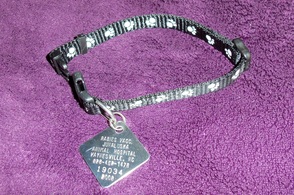 My cat Cosmo's old collar. She still lingers with us, several years after her death and 2 houses later.
Anything Can Be Haunted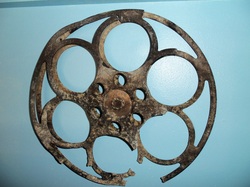 This old film reel goes to show you that spirits can attach themselves to anything.
We visited the old Stock Island Florida drive in called The Islander before the bull dozes came in. The construction guy said take whatever you want. There had been a fire at one time in the concession stand above the concession area was the projection room. Well, in the chard rubble I found this old film reel. I thought what a perfect memory of the old drive in that was being leveled for condos.
We left the drive in and headed back to our hotel in Key West. I cleaned up the film reel and sat it on the table and we turned in for the night. Around 2am I woke up to the sound of a film reel running as if I was in the projection room. I sat up in bed and still heard it. It was pitch dark in the room and couldn't see a thing but I know what I heard.
The next morning we woke up and headed out for breakfast. My mom who was traveling with me asked, "Did you hear anything weird last night?" I was like, "Why? What did you hear?" She replied with, "I thought I was at a movie theater, I couldn't see or hear a movie but I heard the reel running, that clickity click sound."
We heard the exact same thing!!

---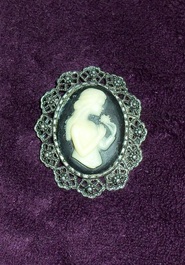 Victorian Morning Broach was once wore when a loved one passed. Often times they are made with the deceased one's hair. That can cause spirits to attach to items.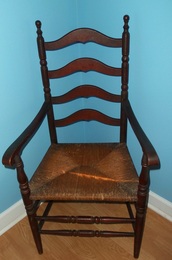 Apparently the former owner of this chair came home with us. I totally forgot to cleanse it first and we now have an occasional male spirit in my office in the chair.
Spirits Can Also Attach Themselves to Photos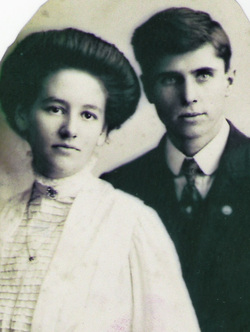 My Grandparents Flora & Leon Vealey
Spirits can attach themselves to photos. In this case, my grandparents. My spirit guardians are both my grand parents who are in this photo taken in 1909.
Tin type photos or daguerreotype photos are highly sought out by collectors and often times do have something attached to them. I have a collection of tin types and before bringing them into the house I cleansed them so there wasn't a chance of bringing anything else into our house.
We have several spirits in our home, including the original owner.
Just remember, if you are going to collect antiques or family heirlooms be prepared to have something attached to the items from time to time. Make sure you cleanse all the items if you are worried about bringing something extra home with you.
---
Robert the Doll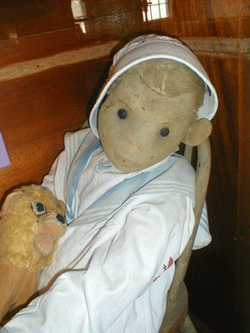 The East Martello Museum on S. Roosevelt Boulevard in Key West is Robert's permanent home where he sits on display for those who dare to visit.
Robert's original home is The Artist House Bed & Breakfast where he lived with his owner Gene Otto and his annual temporary home is at the historic Customs House Museum. Robert was said to have been given to Gene by a Bahamian girl whose exact relation to the family remains one of Robert's many mysteries. Many believe the girl was the daughter of ill-treated servants of the Otto family. Speculation as to his creation include that the doll contains a crystal or was made much like a voodoo doll, thereby creating his evil entity. Whatever his method of creation, Robert is possessed and his ongoing activities continue to be reported to us.
Robert is one of our most popular tales and many of our tour customers visit Robert at East Martello for themselves.
One of Robert's favorite activities is to prevent his photo from being taken. Visitors have reported a variety of camera malfunctions and Robert's favorite trick is to black out his own photo, while leaving the remaining film unharmed. He frequently creates electric and electronic fluctuations and has been said to move his toy lion from one knee to the other and to tap on his glass display case.
The above information was obtained from the Easter Martello Museum and The Artists House Bed & Breakfast.
On a personal note, I have never had any problem capturing Robert's photo. Could it possibly be because I feel for him all these years being locked up in a case? Plus, before taking his picture I treat him like a living being and ask him if I may take his photo before doing so.


---