Ghostly Quotes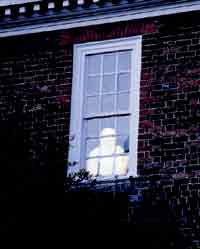 From the Colonial Williamsburg Journal
"True love is like a ghost, which everyone talks about, but few have ever seen."


"I wouldn't give a hoot about anybody who doesn't believe in ghosts."
~Dr. W.A.R. Goodwin

"Tomorrow-today will become yesterday, and today is the birthday of tomorrow's ghosts."
~Terrence Whitaker


"All houses in which men have lived and died are haunted houses; through their own doors the harmless phantoms on their errands glide with feet that make no sound upon the floors."
~Longfellow

"How do you turn off a ghost?"

"The dead say nothing, and the dead know much, and the dead hold under their tongues, a locked up story." ~Carl Sandburg


"The spirits of the dead who stood in life before thee are again." ~Edgar Allan Poe

"You best start believing in ghost stories, Miss Turner, your in one." ~Hector Barbossa

"Lemur means ghost in Latin."

"If you don't pay your exorcist bill, you will be repossessed."
---