Equipment Paranormal Investigators Use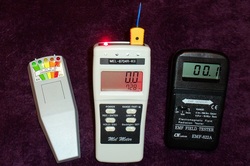 K2 EMF Meter, Mel K2 Hybrid, and Digital 822A EMF Meter
During an investigation there are many types of equipment investigators use. From high dollar cameras and meters, down the methods used during the Victorian era.
We use old school methods and modern day methods as well.
Victorian day people took a simple thermometer and two or three glasses of water and would ask the spirit to manipulate the water temperature. We have used this method from time to time.
Another test is to take normal baby powder and sprinkle it on the floor. This is best used when reports of foot prints are heard or have been seen. If prints appear in the powder, snap a picture of the evidence but be sure no one in your group walked through the area. This is best if you can place a camera on the area. Also, you will need to make sure you clean up the baby powder mess when done.
A method in spirit photography is taking a clear bowl of fresh water (from a river, lake, or ocean) and light a light a white candle. Start talking to the spirit you believe is present and start taking pictures. Many interesting spirit photos have been captured using this method.
Also, try using a trigger object that the spirit may be attached to or interested in. For instance, when dealing with a child spirit, take a ball or hot wheel car and set it on the floor and mark around it with chalk. Then wait to see if the item moves outside of the chalk area. This is another good test you may want to have a camera on to make sure no one had bumped the trigger object.
Walkie talkies are great communication devices. Especially in larger locations but you will need to make sure they are not over used or interfere during EVP (electronic voice phenomenon) sessions.

---
Gauss Masters and Cell Sensors are on the lower end of the price scale for EMF (electro magnetic field) meters. All paranormal investigators will want to have an EMF meter in the arsenal of paranormal equipment.
We highly recommend the K2 EMF Meter. It seems to be the one the spirits like the most. We have had great success with the K2 and the good thing besides detecting EMF readings, you can also use them on questions and answer sessions with the spirits. Ask the spirit a yes or no question and have them light the meter up for yes. Works great!
One of my personal favorites is the Mel Meter with the built in K2 Meter. This is a fantastic meter if you can only afford one meter to being with. It gives you a digital read out of the EMF reading and the temperature and has a red back light to make it hard to miss during a night time investigation. It also has the built in IR flashlight. The K2 meter is built in across the top so you can still ask the spirits questions and have them light the lights up across the top of the meter. It is like having four pieces of equipment all in one (digital emf, digital thermometer, K2 meter, and flashlight.)
The Spirit Box is slightly controversial. We have used it from time to time and honestly don't care to use it but it is always good to try different equipment with different spirits. One spirit might prefer this item and another may like another better. We recommend purchasing a small am/fm radio without an antenna. You find a channel with white noise, no music or radio station coming through. The belief if the spirits use the white noise for energy and will communicate this way.
We also use a basic digital recorder and an RT-EVP Recorder from doing EVP sessions. The RT-EVP Recorder is wonderful. You hear the audio as you record it and don't have to listen to hours and hours of audio this way.
Another fantastic item you need in your ghost hunting case is a mini mag flash light. They are amazing for question and answer sessions and we have had great success with them! You take a small mag flash light and turn it to where it is almost on. Do a tap test to make sure it will not come on with a slight tap. Set it down and start talking to the spirit asking it to turn the light on in response to your questions. It really does work and is great for the beginner or someone on a budget.

When it comes to buying cameras for yourself or your group, RESEARCH them first! Research the type of camera you want, the type of film you want, what you want the camera to be able to do etc. Whether it is a regular camera that shoots video as well as still photos, or an IR Camera, or a Full Spectrum Camera. Talk to an expert first before you buy your cameras because this can be a big investment money wise for you or your team.

Laser grid pens are another fantastic way to keep an eye on the spirits. They come in many colors and styles so ask first before you buy one. If you are wanting to use it with an IR Camera or a Full Spectrum Camera, or just to view with the naked on. It does make a difference what color grid pen you purchase with the item you are parring it up with.


Temperature guns are another must to document hot or cold spots caused by the spirits. We prefer the Mel Meters because they are combo-ed up with the EMF Meter and also have a back light and a night vision flashlight built in. It is great to have a multimeter but at the same time it is great to have separate meters for the different team members to use.
You also want to pay close attention to your senses. Sight, sound, smell, taste, and touch. These are all very important during an investigation. You can experience none or all during an investigation.