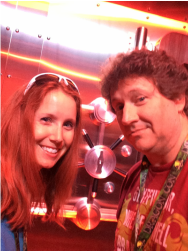 Jamie Pearce and her husband Deric just announced last week that they are expecting a baby.
Pearce is due May 3rd but thinks the little one will arrive earlier in April.
Pearce joked at Dragon Con last week, "We have a little investigator in training in the works." She will not be doing investigations while she is pregnant but the rest of the team will still be conducting them under her approval.