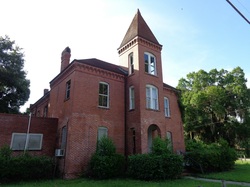 Historic Haunts Investigations founder and author Jamie Pearce recently investigated the 1893 Old Hamilton County Jail in Jasper Florida. She and her team conducted a paranormal investigation during the day for an upcoming book in Pearce's Historic Haunts series.
During the investigation they kept hearing footsteps just ahead of them as if someone was there but didn't want the team to catch up with them.
If you want to hear more about the investigation and their experiences, you will have to check out Historic Haunts of the South 4 when it is released.