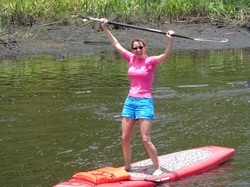 We at Historic Haunts Investigation don't only seek the paranormal but we also like achieving new goals and adventures.

Historic Haunts Investigations founder and author Jamie Pearce finally achieved a goal and learned how to SUP, stand up paddleboard with All West Sports in Jacksonville.

Besides having an absolute blast with her instructor, Zack, it never fails, the topic of ghosts came up. Pearce and her guide didn't run into anything paranormal but she definitely will be back to "investigate" again.