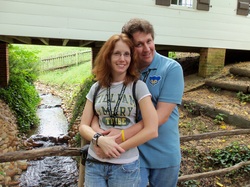 While author Jamie Pearce and founder of Historic Haunts Investigations was in town to investigate a local inn, she took the time to explore Colonial Williamsburg's historic area for another CW addition to her Historic Haunts series.

Historic Haunts of the South III will feature more stories from Pearce's former home town. Plus, Pearce was able to reconnect with Williamsburg Historic Haunts Investigations team members.

"It has always been hard for me to leave this historic city. It has and always will be home to me." Pearce stated.

Make sure to keep an eye out for Pearce's new books featuring more stories from the historic area.