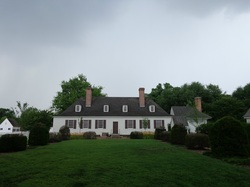 Jamie Pearce founder of Historic Haunts Investigations recently investigated the Chiswell Bucktrout House in Colonial Williamsburg. It will be featured in Pearce's 6th book in her Historic Haunts series.
Pearce had heard many strange stories of murder, a man gone crazy then mysteriously found dead and couldn't resist investigating a house with a past like that.
Be sure to keep an eye out for Historic Haunts of the South IV and hear the results of this investigation and the buildings fascinating history.