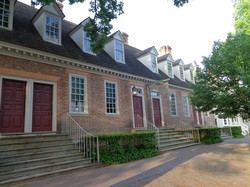 Earlier in May 2015 Historic Haunts Investigations founder Jamie Pearce and team member Amy Mann investigated the Brick House Tavern in Colonial Williamsburg.
They didn't capture any evidence but they had more than one experience in this reconstructed 18th century tavern.

If you want to know more about the investigation you will have to order your copy of Historic Haunts of the South III to find out. It will be the 5th book in the Historic Haunts series and is due out late summer of 2015.