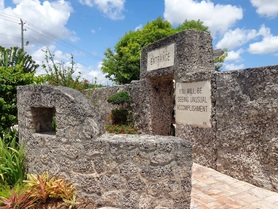 Recently Historic Haunts Investigations conducted a mini day time investigation at Coral Castle. Founder/author Jamie Pearce and fellow team members Deric Pearce, Gayel and James Roush toured the castle.

From the moment the team arrive, Pearce said she felt a presence following them throughout the property and believes it was the original builder Ed Leedskalnin proudly showing off his master piece.

Want to know more about Coral Castle and the ghostly reports? Order your copy of Historic Haunts of the South 2 by Jamie Pearce from this website to get the full history and paranormal accounts.