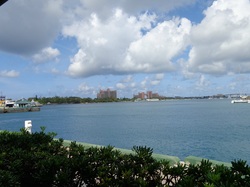 The Bahamas are absolutely beautiful. Vacationing here was very exciting. The history, the culture, and of course the haunted locations were amazing. However, besides ghosts, the Bahamas also have a few myths and folklore.

Andros Bahamas is well known for its mythical loch ness monster type creature known as Lusca. It is said to live in the blue holes of the tropic waters and is described as part octopus/part shark or part octopus/part dragon. It is said to be the cause of drowning's and sunken ships. It apparently uses its long tentacles to pull the victims down into the depths to their deaths.

Many believe the tidal currents are caused by Lusca's breath. Skeptics say it is just a giant squid that people are reporting and not the creature they are describing and out of fear, the victims or witnesses imaginations run wild.

Another legend is of Pretty Molly. She is believed to be a beautiful seductive mermaid that swims in Pretty Molly Bay. Many locals have reported seeing her in the bay at night drawing people to the shores.

Others believe she is the ghost of a slave who committed suicide by walking into the water drowning herself. Either way, she has been reported by many for years.