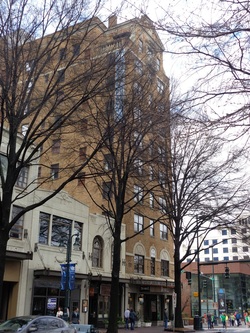 Historic Haunts Investigations founder Jamie Pearce and her team recently investigated the Dunhill Hotel in downtown Charlotte North Carolina. It will be featured in Pearce's book, Historic Haunts of the South 3.
This 1929 beautifully restored hotel holds a long history with several haunting encounters.
The resident haunts did not let Pearce and her team down this past weekend. From phantom smells, emf spikes, and drastic temperature changes were all experienced while the Historic Haunts team investigated the Dunhill.
Pearce stayed in one of the most haunted rooms, #906, and had a few ghostly encounters during the night from finger tapping on the night stand to equipment turning itself off.
Want more details about the investigations? You will have to wait until the book comes out for all the paranormal encounters from Charlotte's Dunhill Hotel.