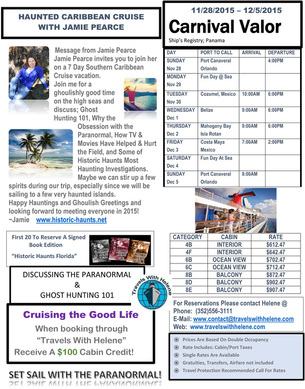 Join Jamie Pearce, founder of Historic Haunts Investigations and author of the Historic Haunts series, November 28th thru December 5th, 2015 for a Haunted Caribbean Cruise. You will set sail from Port Canaveral and see what will be stirred up in the Caribbean paranormal world.
You will be discussing Ghost Hunting 101, Why the Obsession with the Paranormal, How TV and Movies Have Helped and Hurt the Field, and some of Historic Haunts Investigations favorite locations.
Book your spot today to guarantee your free copy of Pearce's Historic Haunts Florida and assure you will have a spot for a hauntingly good time.
www.travelswithhelene.com
contact@travelswithhelene.com