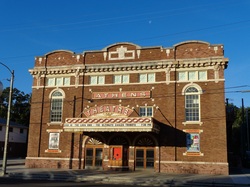 Opened in 1922 and has been wonderfully restores, the Historic Haunts Investigations team was welcomed at the Athens Theatre for an investigation for an upcoming book by author and founder Jamie Pearce.
During their investigation the team had a couple of minor and potential paranormal occurrences but the details will not be given until Pearce releases her book, Historic Haunts of the South 3.
The Athens Theatre is a great haunted venue to catch a great production and one upcoming show is February 14th and is none other than Rocky Horror.