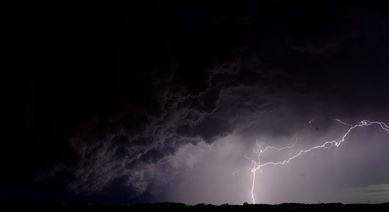 If change in the weather (barometric pressure especially) can affect some people physically, causing headaches, migraines, and other issues why couldn't it affect paranormal activity?

Beside the downside with a storm rolling through while trying to do an EVP session, while the thunder rumbles on and wind blows through and totally mucks up that part of the investigation. However, it could possibly give the spirits more energy to feed off of.

If energy cannot be created or destroyed and can only transfer from one thing or another, then why couldn't it transfer into the spirit realm and give them more strength to materialize? Spirits use energy to manifest so one would think more energy in the air should give the entities more energy to work off of. The lightning discharged during an electrical storm generates electromagnetic energy fields. This is potentially great for "seeing" evidence but not for hearing it since the; thunder, rain, and wind will affect any audio evidence.

From our years of experience, we have "sensed" more during storms and picked up on more impressions but really haven't captured any evidence of the paranormal. However, others have, it all depends on the location and the entities.