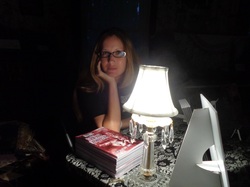 What a fantastic event at the May Stringer House! A wonderful group turned out to meet author/paranormal investigator Jamie Pearce to hear some of her ghostly encounters at this beautiful haunted mansion when she investigated here with her Historic Haunts Investigations team.
Some of the guests not only toured the home and heard the ghostly tales but also had a few experiences of their own. The May Stringer House was featured in Pearce's 2nd book Historic Haunts of the South and guests learned about young Jessie May and Mr. Nasty who lives in the attic. However, a few guests experienced one spirit whom Pearce called the "paranormal pervert". A young woman was pinched on the butt and heard footsteps following her throughout the house.
By day, the house is the Hernando County Historic Museum, but by night it is one of the most haunted houses in town that you can actually investigate (contact the museum for details).