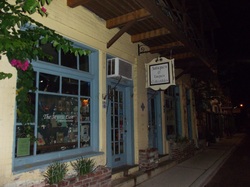 Another great investigation at Antiques and Uniques Collectables in St. Augustine for Historic Haunts Investigations.
The team spoke with two spirits, one named Adam and one named James. They have a lot of video and audio to review before they know what evidence was captures before they were told to leave by one of the spirits known to be a little on the angry side.
If you want to know more about the location and the spirits who haunt here, make sure to get your copy of Historic Haunts Florida II by Jamie Pearce through this website or at the store.