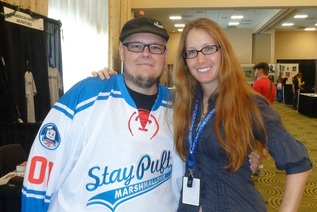 Jamie Pearce, founder of Historic Haunts Investigations, Shawn Porter owner of Ghost Stop and new investigator this season on Ghost Hunters, and Ting owner of American Ghost Adventures, talked about the paranormal with several guests this past weekend.
Several great panels on the paranormal from favorite locations, to worst experiences, to best equipment to use.
Shawn offers a lot of great ghost hunting equipment at an amazing price on his website www.ghoststop.com and Ting offers some fantastic ghost tours in the Orlando area at www.americanghostadventures.com
Pearce does private tours, and has written two books on the paranormal which are available here on this site.