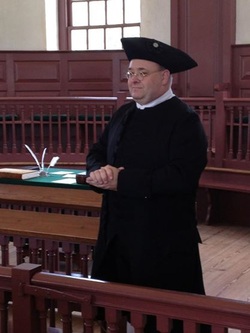 As featured in Historic Haunts of the South by Jamie Pearce

My name is Michael Pfeifer, and I work as a Historic Site Interpreter at Colonial Williamsburg. This story is about a true event that happened to me at one of the sites that I work at- The Public Gaol. The Gaol (pronounced jail) has two of the original cells (completed in 1704), but the rest is reconstructed. Mr. Peter Pelham was the Keeper of the Public Gaol during the 1770s. There have been stories about noises, footsteps, and sightings before, so we jokingly say that Mr. Pelham is still keeping an eye on the Gaol.
One day in early spring 2006 another interpreter and I were scheduled to work at the Gaol. Since there were only 2 of us, we would take turns interpreting the site. One of us would interpret for an hour while the other took a break, and then we would switch. I was interpreting first, so my co-worker went to get a cup of coffee at the break room in the Capital. It was still early, and no guests had arrived yet. That means that I was entirely alone. Or was I?!?
While opening the Gaol site, I noticed that there was something wrong with the modern central air system. It was extremely stuffy inside the Gaoler's house. There was no air movement, and it was way too hot inside. First, I called Work Control to make them aware of the situation. Then I decided that I would open the back door leading to the exercise yard and original cells outside and then come back and open the front door of the house. Perhaps that would let some air flow through and move some of that dead air. I walked through the Gaoler's house and opened the back door as planned. I then started back to the front of the house. While I was walking through the hall (parlor) I heard what sounded like a coin hit the floor behind me. I stopped and turned around. Sure enough, there was a Lincoln head penny laying on the floor behind me. Again I turned around to find another Lincoln head penny laying on the floor. Still unaware of anything odd, I bent over to pick it up. Again I heard a coin hit the ground behind me. I bent down to pick it up. Again another penny hit the ground behind me. The pennies continued to drop in just this fashion for what seemed like several minutes.
I did begin to think something funny was going on. First I thought I had a hole in my pocket, so I checked. No holes in either pocket. Besides that, I NEVER carry change in my pockets. The pennies weren't mine. Then I began to suspect a co-worker was playing tricks on my. I searched the whole house and found no-one. Since there are only two doors and I could see them both from where I stood, I am sure that no one had entered. Finally I said, "Well Mr. Pelham, I'm glad you took a liking to me, but if you're gonna drop money on me could you make it a Virginia Half-penny, or a shilling or two? Even a 20 would be nice."
Then the pennies stopped dropping. I picked up the last one and put it in my pocket with the rest. I could hear my colleague coming down the path from the Capital, so I opened the front door and went out on the front steps to wait for him. When he got there, he noticed I had a confused look on my face and he said, "What?!?"
I said, "Clayton, the strangest thing just happened to me!" and I began to tell him the story. While I was talking the front door slammed shut and something came flying out from inside and it his me in the chest. He said, "What was that?" I said, "It was probably a penny." I looked at the ground and it WAS a penny. I picked it up and put it in my pocket.
I went home with 35 pennies in my pocket that day. They were all modern pennies with assorted dates. There were no wheat pennies. I did not notice if they fell heads up or tails up.
I shared the story with all my co-workers, and they were all amazed. Some couldn't believe it, and some just plain got freaked out. They all swore that they hadn't done it. They said that if it had been then that they would claim it. They said that it would be too good of a prank to go unclaimed.
So where did the pennies come from? Did Peter Pelham or another spirit decide to make themselves known to me that day? I don't know. I have worked at the same site many times since then, and nothing else has happened to me.