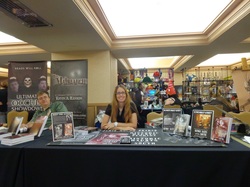 Author Jamie Roush Pearce, Founder of Historic Haunts Investigations spoke at the 2014 Ancient City Con in Jacksonville Florida.
Pearce spoke about her books, Historic Haunts Florida and Historic Haunts of the South then about researching the paranormal.
During the weekend, she even met the Grimm Reaper, and wasn't scared on bit, she faces the other side on a frequent basis. Sorry, Grimm.