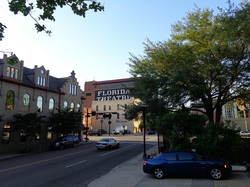 Jamie and Deric Pearce of Historic Haunts Investigations took a grand historic tour of the very haunted Florida Theatre in downtown Jacksonville Florida this past Wednesday.
Jamie is researching the location for another upcoming book, Historic Haunts Florida 2.
The theatre offers FREE historic tours the first Wednesday of every month, as long as there isn't an event taking place.
The location is beautiful and did we mention it's haunted?