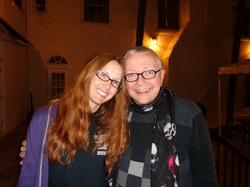 Jamie Pearce of Historic Haunts Investigations was invited to the Chip Coffey Coffey talk at the Casa Marina in Jacksonville Beach this past Tuesday night.
The most amazing medium, Chip Coffey, did readings for guests and tried to connect with the spirits at the hotel.
Pearce talked paranormal and signed both books, Historic Haunts Florida and Historic Haunts of the South.
An amazing evening with great people at a beautiful historic and haunted hotel.