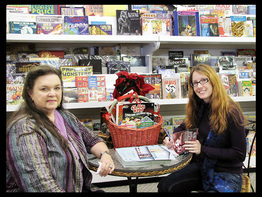 My Home Town News, Deland, Florida
By: Erika Webb

DeLand bookstore owner Cindy Raible was on a holiday inventory search when she came upon some "spirit-raising" books by Jacksonville author and cable television show guest Jamie Roush Pearce.

Mrs. Pearce's books, Historic Haunts Florida and Historic Haunts of the South, intrigued Ms. Raible who asked if the author would be willing to meet customers and sign copies of her books at Family Book Shop for Small Business Saturday on Nov. 30.

Mrs. Pearce owns Jacksonville-based Historic Haunts Investigations and has been featured on the SyFy Channel's Ghost Hunters, the Travel Channel's Most Terrifying Places and the Biography Channel's My Ghost Story.

She's not big on shopping in throngs, so she was more than willing to spend the biggest buying weekend of the year in the cozy independent bookstore sharing her thoughts and experiences with like-minded people.

Historic Haunts Florida, published in 2011, is in its third printing. Historic Haunts of the South was published in September, and, if all goes according to plan, she said a third book will be out in the spring.

Mrs. Pearce recalled her first supernatural experience, a pleasant and comforting, if not curious foray onto her life's path.

"I was five years old. My mom used to flip houses so we were in a different house every year," Mrs. Pearce explained.

One of those houses -- in St. Petersburg -- came unexpectedly equipped.

"My mom tucked me in one night and I fell asleep," Mrs. Pearce said. "When I woke up, there was an older woman standing over me. She pulled the blankets up, like she was tucking me in. She kissed me on the forehead and disappeared."

The encounter didn't frighten Mrs. Pearce, who said her family was always very open and accepting of the "many things out there we don't know".

Her passion for genealogy has revealed many of the women in her family were prone to paranormal experiences.

Instead her thoughts meandered to questions:

"Who was it? What was it? Why?"

Thirty years later she's still asking, still seeking and sharing her observations and experiences with other curiosity seekers.

"Genealogy, history and ghosts, that sums me up," Mrs. Pearce said. "I've always loved cemeteries. They have a lot of history and stories to tell."

Growing up, she conducted unscientific "mini investigations." After high school, she went on to the HCH Institute, for hypnotherapy and psycho-spiritual trainings, in Lafayette, CA, where she earned her parapsychology certificate, under the tutelage of "Professor Paranormal" Loyd Auerbach.

"He taught me a lot," Mrs. Pearce said.

Other mentors included a clairvoyant, clairaudient and clairsentient psychic and "fully-conscious medium" Chip Coffey. He hosted "Psychic Kids: Children of the Paranormal," which aired on A&E and Biography and was on 31episodes of the popular A&E Network series, "Paranormal State." Mr. Coffey has been interviewed on numerous talk shows and in several newspapers and magazines.

"He's an amazing psychic medium," Mrs. Pearce said.

John Zaffis, "Godfather of the Paranormal", has studied and investigated the paranormal for nearly 40 years and hosted SyFy's "Haunted Collector."

Mrs. Pearce said she worked with and learned much from him at book signings and investigations.

There are two things with which she is not down: run of the mill stories and sacrificing integrity for ratings or attention.

From "haunted tales of paranormal pachyderms" in her first book to educating people who entrust her with their potentially haunted homes and businesses, Mrs. Pearce seeks to interest others and to tell the truth.

"I interview people first to find out why they think their (space) is haunted," Mrs. Pearce said. "We use electro-magnetic field detectors, digital recorders to capture (electronic voice phenomena) and infrared full spectrum (photography) to try to record anything that might be going on. We tell them what we find, don't find and if anything's going on."

Sometimes, she said, what is going on is as simple as electricity. She's not about to make it more than what it is.

"Buildings with EMF can make you think you see things, feel things ... you feel strange," she explained. "It's very unhealthy to live in that environment. If the (electrical) box is putting off EMF we tell them to get it grounded, rewired. Oftentimes that's what it was."

Other times, she said, it can be a wandering entity doing "just weird stuff."

"I ask is it bothering you?" she said. "Usually they'll say no and I tell them maybe just leave it be."

Maybe her greatest offering to others is her lack of fear.

"I'm not scared of death," Mrs. Pearce said. "I'm in touch with God and I've tried to live a good life. I think there's a heaven and some people that don't go on ... they're not ready yet so they hang around or don't know they're dead."

And as far as television goes, she's not going to pretend to be terrified in order to boost ratings.

"I'm not gonna lie to be on TV. It wasn't terrifying," Mrs. Pearce said referring to the filmed encounters. "I could care less about it and it's my credibility."

Because the author has traveled to most of the sites in her books and has even conducted investigations at many, readers are taken along for quite a ride.

From St. Augustine to Pensacola, Fernandina Beach, Jacksonville, Miami, Tampa, Orlando, the Florida Keys and even the Ponce de Leon Lighthouse in Ponce Inlet, "Historic Haunts of Florida" includes her personal experiences at each location as well as hours of research and interviews with others about each.

"Unfortunately ghosts, as I like to say, do not perform on cue," Mrs. Pearce wrote in the book's forward. "In situations where my personal experiences were limited, I tried to interview people who lived or worked at the locations, past or present."

In "Historic Haunts of the South," Mrs. Pearce visited more sites in Florida as well as in Louisiana, Tennessee, South Carolina, North Carolina, Georgia, Mississippi, Virginia, West Virginia and Kentucky. Restaurants, hotels, old homes, a sanatorium, penitentiary, bridge and the Capitol Building in Colonial Williamsburg, Va., are among the locations featured.

Her genealogy research also has revealed the author is related to the Randolphs of Williamsburg.

Friends told her donning the 18th century garb gave her the "snobby attitude of a Randolph".

She was perfectly comfortable in the dress and each time she's visited Williamsburg, she's felt a familiarity, as though she may have been there in another lifetime.

As shoppers came into the store to browse, Mrs. Pearce offered her personal views on holiday shopping.

"A lot of books are going out for Christmas this year. I try to hit the mom and pop shops and antique stores," she said. "I love antiques."

"My niece, she's gotta have Aeropostale, so I break down and do that," she added, laughing.

She likes to haunt the farmers' markets.

"Without them, where would we be?" she said.

And she prefers turning pages to scrolling when she reads.

"I love the smell of books. We need to keep books around," she said.

Even though her Christmas shopping has "been done for like a month and a half," Mrs. Pearce couldn't resist checking out downtown DeLand while she was here.

"I went downtown to prowl around," she said. "I love that theater."

An unmistakable gleam in her eye suggested her prowling may have yielded more material. It remains to be seen whether or not the Athens or any of DeLand's other historic buildings will show up in book four.