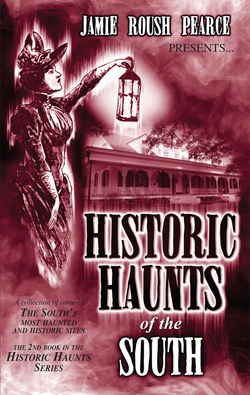 The Mountaineer Guide
By: Jessi Stone
October 23rd, 2013

Jamie Roush Pearce, formerly of Clyde, experienced something unexplainable when she was 5.

It was an experience that would lead her to a passion and a career in paranormal investigations. She lived in many houses as a child because her mother flipped houses for a living in St. Petersburg, Florida.

"One house we lived in in St. Petersburg, I awoke in the middle of the night and saw an elderly woman who was transparent standing next to my bed," she recalled. "I wasn't scared, actually felt very peaceful. She pulled up my covers, tucked me in, knelt down and kissed me on the forehead and vanished. That had me hooked."

After doing a lot of genealogical research, Pearce discovered that the women in her family have had more paranormal experiences than most. In fact, Pearce describes herself as post cognitive, meaning she can see things from the past, while her other is pre cognitive, meaning she has premonitions. These abilities also run in her maternal family.

Pearce lived in Clyde for seven years until she moved back to Florida four years ago to manage one of the largest ghost tour companies in St. Augustine. She left that position a year ago to focus 100 percent on her paranormal lectures, school group trips, books and investigations.

"I also used to work at the Walmart in Waynesville by day and did my paranormal investigations by night," she said.

Pearce developed a passion for history and the paranormal. She began to research and investigate paranormal sites and stories. She established Historic Haunts Investigations in 2004 to display her research and findings, and provide an outlet where others could share their stories.

She is a regular contributor to the Florida Times-Union and has been featured in the award-winning Jacksonville Magazine. In addition, she's been featured on the cable television shows "Most Terrifying Places in America," and "My Ghost Story." She has worked with Chip Coffey, John Zaffis, and Ghost Hunter's TAPS (The Atlantic Paranormal Society). She consults with several noted paranormal authors and experts, as well as a number of paranormal groups.

Clients come to her for answers to things they can't explain. She performs extensive interviews with the family members and researches the history of the home.

"If I come to the decision that the client is legit I set up a meeting then set up an investigation if needed," Pearce said. "My team Historic Haunts Investigations and I will go in and do a base reading."

Her team performs temperature readings for electromagnetic fields. Pearce said homes that don't have electrical wiring that is grounded correctly or with high voltage can actually make people sick or cause them to hallucinate seeing or hearing ghosts. Her team can capture apparitions speaking using digital recording devices and can even get photos of spirits using infrared cameras.

"Once we determine if a location is or is not haunted we sit down with the client and talk with them," she said. "Sometimes we do have cases that it is all in the clients head and we approach that delicately and we actually do have a psychiatrist we recommend and a priest if need be."

She has many stories she could share about seeing full-body apparitions, has a recorded conversation with a spirit and even a ghost ship sighting at Jekyll Island. As for the skeptics, it's just something she has to deal with on a daily basis. She was even lectured during a book signing about how she was writing about the devil.

"Some people don't believe because they have never seen a ghost… just because you haven't seen it doesn't mean it doesn't exist," she said.

For those who want to believe, pick up a copy of Pearce's book, "Historic Haunts Florida" or her newest book, "Historic Haunts of the South," chronicling her investigations and personal experiences. The first in the series is already in its third printing. At 109 pages, the new book is a quick and gripping read for $13 at most locations.

Helen's Bridge in Asheville is just one southern haunted location featured in the second book. Both books are available at www.historic-haunts.net.Now she is working on three new books all at the same time — "Historic Haunts of the South 2," "Historic Haunts of the North" and "Historic Haunts Scotland" for the 20th Anniversary of the FEFL Scottish Games.