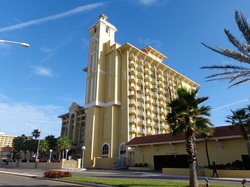 Historic Haunts Investigations had the honor to investigate the Plaza Resort and Spa in Daytona on November 9th, 2013 and was welcomed by the staff and some of the resident ghosts.
We even stayed overnight in Room #1111 and it was very active. Security guard, Craig Lew, told us that a man several years ago jumped from the balcony of our room and he still haunts the room. He even went on to say that is the only place in the entire hotel he gets creeped out. A few weeks ago, a guest actually checked out because he felt so sick and heard someone tell him to go to the balcony and jump.

We also spoke with Wilson and Craig both have experienced the little girl known as Penelope.
She is often seen in different parts of the hotel, tugs people's pant legs, and giggles.
One point during our interviews when Craig said that she followed him home one night the K2 EMF meter lit up.

The entire staff shared their amazing paranormal encounters that haunt these halls and the details of their stories and our investigation will be in Jamie Roush Pearce's 3rd book, Historic Haunts of the South II. We hope to get back again for another investigation.
If you want to try and experience your own paranormal phenomenon at the resort you may book your room at
www.plazaresortandspa.com
or do an investigative tour with American Ghost Adventures. You may book one of their tours through their site
www.americanghostadventures.com