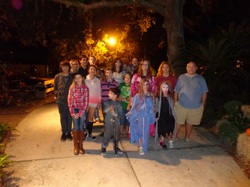 Historic Haunts Investigations and Jamie Roush Pearce had another great ghost tour with the home school kids.
Looking for spirits on a historic walk is always a great way to end the day.
Plus Halloween costume contest where young, Chloe, won with her zombie costume.
Have a safe All Hallows Eve everyone!