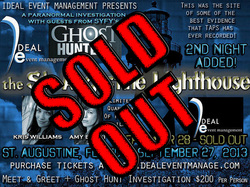 Looking forward to this weekend's event. I get to work with the ladies of T.A.P.S. yet again.
I will be doing my book signing for, Historic Haunts Florida, before the St. Augustine Lighthouse Investigation.
The event is sold out for the weekend and am looking forward to anything great experience.
The newest book in the Historic Haunts series, Historic Haunts of the South is on back order from the printer but the will be in Tuesday, October 1st.