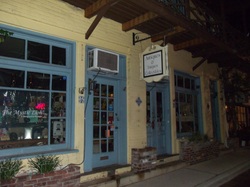 Historic Haunts Investigations was honored to investigate Antiques and Uniques Collectables on September 11th, 2013. We had great success discovering who the little boy is that haunts the shop. We discovered during a 45 minute Q&A with a flashlight that the boy's name is Anson and he is 10 1/2 years old and is here with his little sister.
We also had some interaction with Ted and the garage door is opened on its own while we were chatting with him and trying to discover who the ghostly woman is who sets on the stoop.
We hope to go back and discover more answers of who is haunting this awesome antique store.