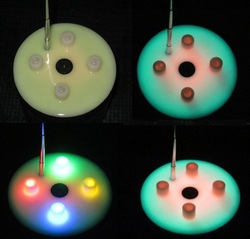 Historic Haunts Investigations has a new and amazing piece of equipment. The REM Pod by DAS Distribution/Pro Measure. This meter is amazing in the paranormal field.
In complete darkness many meters can be hard to find, but not this one! This one lights up and sounds when activated.
This meter puts off its own EMF so when anything comes near it, it will break the meter's natural EM field and set the alarm off. You can be in another room and will hear it when it goes off.
Very simple to use, just turn the switch on on the bottom.
This is a great piece of equipment and is at a very reasonable price!!