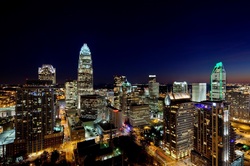 Get your tickets soon for Charlotte Haunts Ghost Tours starts next month. The inaugural tour is May 31st at 7pm. A 1.5 hour riding ghost tours takes you around the Queen City hearing ghostly stories from some of the most haunted places in Charlotte.
Then at 9pm is the 2.5 hour riding Haunted Pub Tour. Ride around in comfort to 3 or 4 different haunted pubs and have some spirits with the spirits and learn about some of Charlotte's most haunted pubs and their surrounding areas. Tours go out every Friday and Saturday nights.
For more information on the tours, times, and prices check out the website at www.charlottehaunts.net for all the info.
Charlotte Haunts Ghost Tours is brought to you by City Haunts LLC which was started by paranormal investigator and author Jamie Roush Pearce who founded Historic Haunts Investigations in 2004. Pearce wanted to share some of the unknown ghostly stories of the Queen City from an investigator's point of you.
Two new tours guides have been chosen for the mission of taking guests around Charlotte with a passion for the paranormal. Lanson and Joyce are both very excited about giving guests a tour of their fair city and telling them about the darker side of Charlotte.
A few of the stories from Charlotte Haunts Ghost Tours may even be in Pearce's next Historic Haunts book, Historic Haunts of the South.
Make sure to like Charlotte Haunts on Facebook at www.facebook.com/charlottehauntsghosttours and keep up to date on upcoming events or even experiences from the tours.